Arriving by car from Bari.
Take the motorway SS. 16 up to Brindisi, then the SS. 613 to Lecce.
Before entering Lecce take the TANGENZIALE OVEST to Gallipoli. If it is closed for work in progress, take the TANGENZIALE EST and follow the indication to Gallipoli. When arrive near Gallipoli, continue going south, follow the direction Santa Maria di Leuca and take the Lido Pizzo exit. At the end of the street (very narrow one), turn right (Gallipoli direction) and after about 2 kms, at your left, you'll find the Hotel. Here is the map of Salento.
Where we are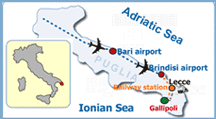 engpic2.gif" align="top""119">
Sponsors